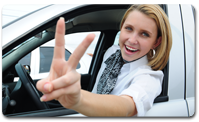 Welcome to G & G Driving School! It's our goal to provide our students with the most effective tools and training to become safe, responsible drivers. We offer a 30 hour online Driver's Education program approved by the State of California Department of Motor Vehicles. Completion of our online course will provide you with the required Certificate of Completion of Driver's Education PLUS all the information you need to pass the written permit test!
Our Online Driver's Education program was created to be as convenient and interesting as possible. We have included interactive games and videos to make your learning fun and enjoyable. Our online course is divided into 10 interesting chapters with a short quiz at the end of each chapter. You must get a 75% on each quiz to move to the next chapter. If you miss too many questions on any chapter, you can restudy the material and then retake each chapter quiz until you pass. You complete the course at your own pace. If you log out of our Driver's Education site, your information and test scores will be saved till you can log back in to continue the course.
DRIVER EDUCATION ONLINE, ONLY $25.
Upon completion of the online Driver's Education Course, you will receive an email with your scores that you achieved on each chapter. You will receive your paper Certificate of Completion of Driver's Education (DL400C) by regular postal delivery, or you may pick it up at our office. Your fee for the course includes the entire online Driver's Education program and Certificate. Driver's education is a formal class or program required if you are under 18 years of age, that prepares a new driver to obtain a learner's (instruction) permit, and ultimately the driver's license!

Instant Student Licensing Program (ISLP)

Now you don't have to wait to get behind the wheel!
Once you're old enough to drive, you can't wait to take the wheel—and the Instant Student License Program (ISLP) is your express lane to the driver's seat!
ISLP is an integrated online driver education/driver training program that combines driver training ("behind-the-wheel") with online driver education to get student drivers into a vehicle as quickly as possible. (The "old way" makes students complete all of their required driver education and go to the DMV to get their permit before they can drive.)
Simply register for ISLP online and get started right away. After you've completed the first segment of the driver education course, you'll contact the driving school and start driving!
The course is only $60 but if you sign up for the BTW (Behind-the Wheel) driving lessons, we'll provide a $30 credit towards the sign up fees!
INSTANT STUDENT LICENSING PROGRAM, ONLY $60.